HPE Competitive Benchmarking server results on Intel leaderboard and sustaining records help customers to stay competitive in today's market.
Today's market can be described as volatile at best, and many companies need to stay competitive by knowing how their particular servers or future deployments perform compared to others on key workloads. The answer to this need: industry-standard server benchmarking. HPE servers currently hold 116 benchmark world records that includes 34 performance benchmark leadership results on the Intel leaderboard plus 83 sustaining leadership records, including AMD server results. HPE servers prove that they provide customers the best performance, scalability, virtualization, and energy efficiency to continue meeting market demands. For detailed information on HPE world records, see the HPE Server Performance Benchmark Newsletter.
HPE servers make their mark on Intel leader board with Intel Xeon Scalable processors
The Intel performance leader board includes HPE servers with innovative Intel Xeon 2nd and 3rd Generation Intel Xeon Scalable processors. One of our newest solutions, the HPE Superdome Flex 280 server, won most of the leader board #1 records.
Ready for your small or medium-size enterprise, the Superdome Flex 280 is designed to handle SAP HANA, Oracle, and SQL Server user demand while delivering real-time analytics. You can comb through massive IoT and AI datasets at the edge or in the core. And you are able to tackle complex problems holistically as a standalone HPC workhorse or within petascale clusters. More information about the Superdome Flex 280 can be found at the release blog –  hpe.com/t5/Servers-Systems-The-Right/HPE-s-new-as-a-service-building-block-for-digital-transformation/ba-p/7111328
Other HPE server world records on the Intel leader board include HPE ProLiant DL380 Gen10, HPE ProLiant DL360 Gen10, HPE Superdome Flex, HPE Synergy 480 Gen10, HPE Synergy 660 Gen10, all featuring 2nd generation Intel Xeon Scalable Processors. These results fill out the remainder of the HPE section of the Intel leader board proving that HPE can provide customers with all-encompassing solutions.
The customer value of server benchmarking
You want to keep competitive with the market and what your customers need, and performance benchmarking supports that. Server benchmarking shows the objective performance measurement of the product, and can be used as a comparison to similar products. Benchmarking is also often useful for sizing in purchase planning. Results can help showcase your company's product qualities and total cost of ownership.
HPE runs many types of benchmarks to evaluate its servers. The diverse categories of performance and efficiency indicators leads to results that show you:
How fast a system can complete any action in a certain time period. Improving performance will allow your business to stay competitive in the market.
Scalability that specifies how a system can handle load increases without impacting performance. Better performance ensures that a system is versatile enough to handle low and high loads.
Performance, scalability, and power consumption of virtualization solutions.
Energy efficiency that calculates power management.
Competitive results that quantify the comparison of a business to others.
Cost efficiency
Showing strengths and weaknesses of your business servers.
Scalability revenues
The listed measurements are important as they can show how your business is efficient, competitive, and able to grow without any adverse effects. A scalable system can adapt to your company's growth and provide longevity of your purchase. This is especially important for small- and medium-sized businesses. Your organization wants to continue to remain competitive in today's uncertain market. You need to be confident that your current or planned server installations offer superior performance.
Benchmark types
The latest Intel leader board contains a plethora of benchmarks that includes a wide variety of performance, scalability, and energy efficiency metrics. The following are the benchmarks used to attain world leadership for HPE servers on the Intel leader board:
Big data analytics
TPC Benchmark*H (TPC-H): Decision support system with ad-hoc queries–Is configured to represent the workloads of different-sized businesses. Shows query execution speed and cost of the system at different database sizes
Cloud and virtualization
SPECvirt_sc® 2013: Virtualized server consolidation–Shows capability of enterprise-class virtual machines using four workloads on real-world traffic: a web server, a Java application server, an IMPAP server, and a batch server.
Server-side Java
SPECpower_ssj® 2008: single- and multi-node servers' energy efficiency–Displays power management and energy-efficiency
SPECjbb® 2015: pure and critical throughput under SLAs–For customers who run worldwide companies, it shows handling point-of-sale requests, online purchases, and data-mining operations.
Compute-intensive metrics 
SPEC CPU 2017–Customers can see the server's capability and speed in running applications related to real-world problems of R&D environments or highly specialized scientific and technical fields.
OLAP
SAP Business Warehouse (SAP BW) Edition for SAP HANA® standard application benchmark: In-memory benchmark for next-generation real-time data warehousing–Shows the performance of delivery of simple, open, flexible, and highly scalable solutions for in-memory computing.
SAP Enterprise Resource Planning (ERP)
SAP® Sales and Distribution (SD) standard application benchmark, two-tier: ERP OLTP benchmark–Indicates the number of users, response times, and the amount of fully business processed line items per hour (SAPS) to help customers determine sizing requirements
Shared-memory parallel processing
SPEC OMP® 2012–For compute-intensive applications, the benchmark includes 14 scientific and engineering codes. Customers can measure parallel processing performance on a given system.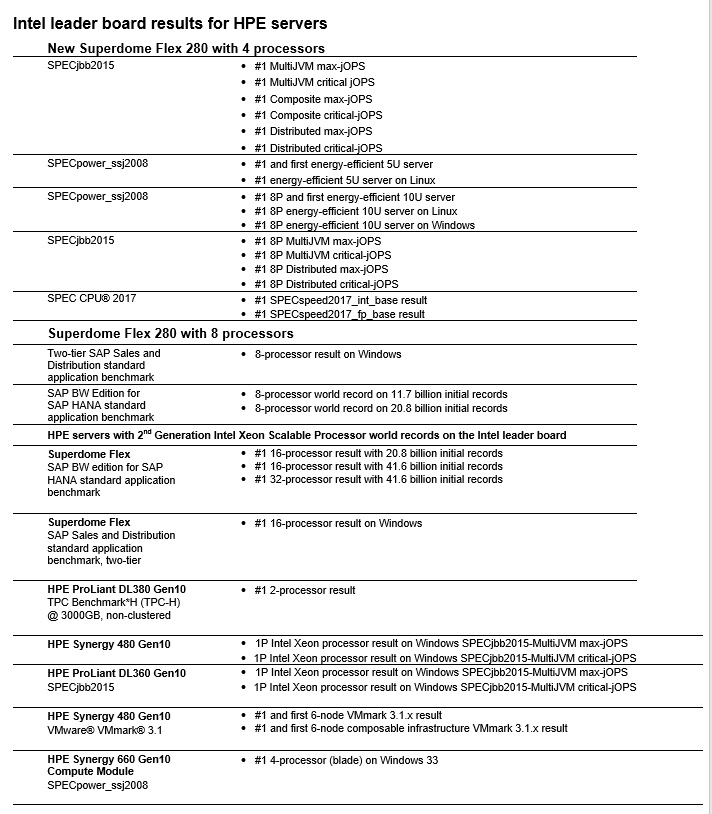 Bottom line
Competitive benchmarking is a valuable tool for companies who want to be ahead of the game in today's market. HPE provides benchmark server results that lead the way.