Written by Ashwin Shetty of Hewlett Packard Enterprise
Discover the latest updates on availability and features to help organizations simplify hybrid cloud data protection with HPE GreenLake for Backup and Recovery.
As your organization leverages the cloud to grow your business, you start generating volumes of production data that must be efficiently protected as you scale. As you are aware, protecting and managing apps and data in a hybrid cloud can prove even more complex and costly than legacy on-prem solutions. You need to deal with:
Siloed data – This is the data that is difficult to access and increases cost and risk – while lowering efficiency. With the proliferation of data infrastructure, data is increasingly likely to be siloed by location, owner, data type, management platform, and more. Organizations must manage and protect multiple data silos in distributed locations and this level of complexity severely inhibits the innovation and business value that data offers. At the same time, it increases IT expense, risk of attack, and potential data loss. In response, IT leaders need platforms to unify data and eliminate siloed infrastructure.
Inconsistent protection policies – Data protection on-premises and across cloud tends to be inconsistently enforced and complex to manage. Often, no common protection policies create a corresponding increase in risk for your data. IT leaders need a solution that unifies management across hybrid cloud.
Growing cyberthreats – Ever-increasing ransomware attacks affect every industry. With data distributed across multiple locations on-premises and in the cloud, IT leaders need a solution to effectively protect their data against ransomware and malware threats.
How HPE GreenLake for Backup and Recovery solves these challenges
Agile, resilient data protection is key to always-on availability for data and applications in today's dynamic hybrid cloud environments. While every organization has its own set of requirements, almost all focus on cost efficiency, simplicity, performance, scalability, and future-readiness when architecting a data protection strategy and evaluating new technologies. 
HPE GreenLake for Backup and Recovery delivers the simplicity of the cloud experience 
while seamlessly protecting on-prem and cloud-native workloads. Delivered as a service, it leverages global protection policies to consistently protect workloads across hybrid cloud. In this way it eliminates data silos, multiple administrative touch points, and cumbersome point solutions.
Now I'm excited we excited to announce the availability of some key features:
Protection of Microsoft SQL Server database – HPE GreenLake for Backup and Recovery now protects Microsoft SQL Server databases running in VMware virtual machines and provides the same high efficiency protection as for VMware virtual machines. Application hosts are easily registered with the service and the hosted Microsoft SQL Server databases added to the HPE GreenLake for Backup and Recovery inventory where they can be selected for protection individually or as part of a protection group. 
Protection of Amazon Relational Database Service – This service also enables snapshot orchestration of Amazon RDS instances within the customer's AWS environment and provides rapid recovery from that snapshot. This new feature extends the cloud native backup of the service to protect your AWS resources.
Along with these new protection features, you can continue to protect on-premises VMware VMs and cloud-native workloads like Amazon EBS volumes and EC2 instances.
Enhancing HPE GreenLake for Backup and Recovery
HPE GreenLake for Backup and Recovery provides access to new features and versions as soon as they're available. This service often upgrades features and adds functionality every month, without disrupting your work. This makes it so easy to protect your workloads when compared to traditional data protection approaches – where periodic upgrades are often so costly and disruptive that customers might wait months for the functionality in a new version (if they don't choose to skip some upgrades altogether).
I'm excited to introduce the following features with HPE GreenLake for Backup and Recovery that were released recently:
Storage Volume Protection – Starting off with Storage Volume Protection, users can now protect any HPE array volume that is managed by Data Services Cloud Console (DSCC).  Volume protection, using snapshots and replicas, can be configured using Data Ops Manager. This is an extension of our service, allowing you to back up your HPE arrays when you migrate to HPE GreenLake for Backup and Recovery.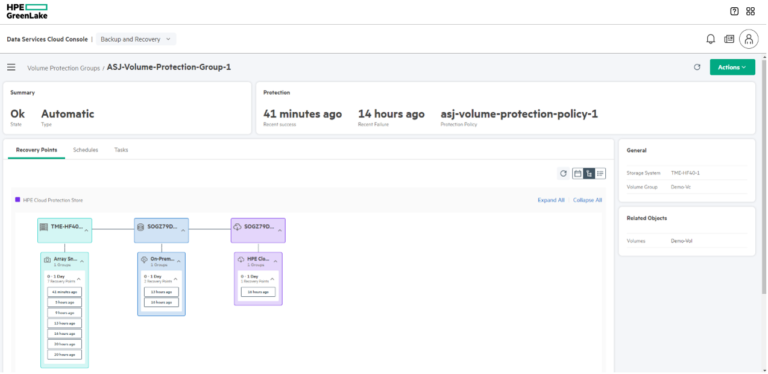 Replication – This enhances the Protection Policies. You'll now be able to replicate utilizing HPE StoreOnce Catalyst Copy from one on-premises destination to another on-premises location or to a Cloud Protection Store. Using replication, users will be able to efficiently keep multiple backup copies of their data in two different datacenters. Users who back up to on-premises protection stores as well as the Cloud Protection Store will be able to configure either of the on-premises backups to be the source of the transfer to the cloud. This extends on the 3-2-1 backup rule, by giving you the option to have your data in multiple locations. As part of these global protection policies, on-premises and cloud-native backups are all managed through one policy.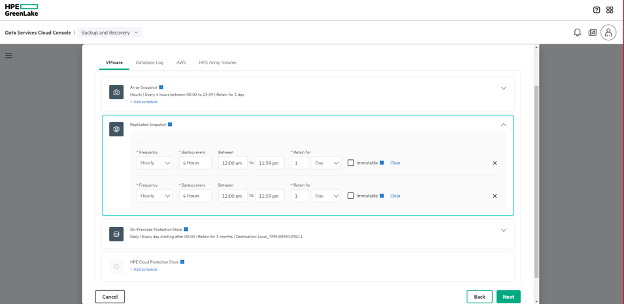 Dual authorization on HPE StoreOnce System – Users have the ability to configure dual authorization on their HPE StoreOnce systems to secure their data. This gives you the option to include more than one administrative user's approval for any destructive actions against a given backup asset. 
File and Folder recovery enhancements –  Users can now recover individual files and folders from HPE StoreOnce Systems, and from the HPE Cloud Protection Store. Regardless of which backup destination is used, you can either browse directly to the files and folders to be restored, or search for them using the new search functionality.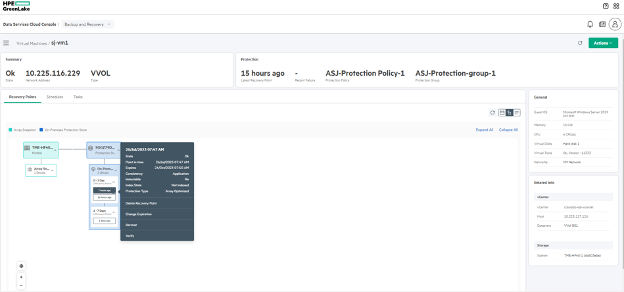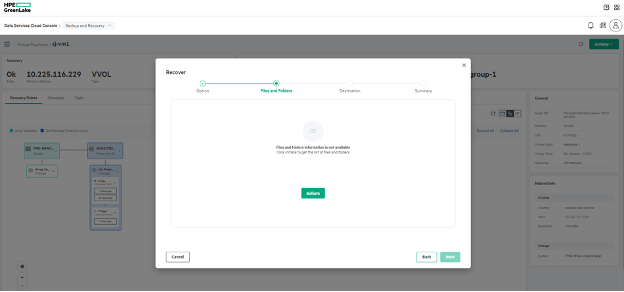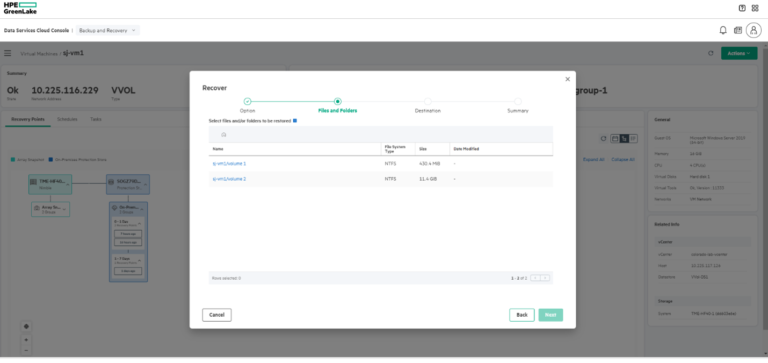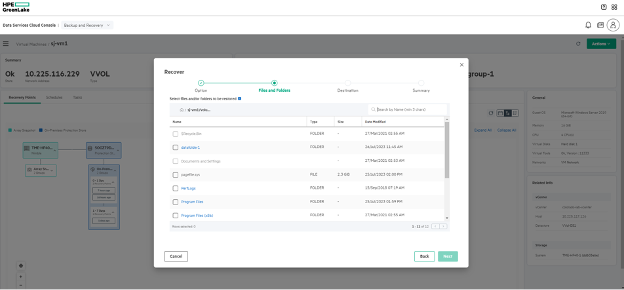 Interested in learning more?
Watch this video on simplifying hybrid cloud protection with HPE GreenLake for Backup and Recovery: