It's that time of year for the 2021 Gartner Magic Quadrant for Primary Storage and again, HPE was named a Leader. I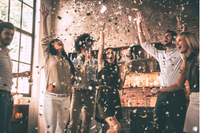 recommend you read the Newsroom blog by Sandeep Singh, Marketing VP at HPE Storage. As the title of Sandeep's blog posts states, this is the third year in a row that HPE is named a leader. You can download a copy of the Gartner Magic Quadrant for Primary Storage for yourself. Note it does require registration to download. 
A few highlights from Sandeep's blog:
Primary Storage needs to do a lot more! Storing data is just the beginning. Customers need to ensure that data is: always on, always-fast, and powering their apps; secure and protected from ransomware and cyberattacks; accessible seamlessly to data innovators; and mobile across private, public, and multi-cloud environments.
Underpinning HPE's achievement is a vision to simplify data management with a cloud operational experience. We deliver on this vision with the  HPE GreenLake edge-to-cloud platform.
The HPE GreenLake platform offers customers a broad portfolio of cloud services that provide greater choice and freedom for their business and IT strategies via an open and modern platform that delivers a cloud experience everywhere. And storage as a service is a very popular HPE GreenLake offering.
Recently announced innovations expand HPE GreenLake cloud services with HPE GreenLake for data protection, providing disaster recovery and backup cloud services as seamless extensions to primary storage.
HPE InfoSight, our industry-leading AI Ops for infrastructure, has pioneered many innovations in AI-driven intelligence over the last decade as it has transformed the customer support experience.
We recently introduced HPE CloudPhysics, a SaaS service delivering data-driven insights for smarter IT decisions. HPE CloudPhysics enables IT to optimize application workload placement, procure right-sized infrastructure services, and lower costs.
Something to Talk About
Since the report hit without a lot of warning, I didn't have time to get a podcast done when this blog article was published but, I have now. I have a podcast to share that I did with Sandeep Singh, VP of Marketing for HPE Storage.  The title of the podcast is: #12 Talking 2021 Gartner® Magic Quadrant™ for Primary Storage and HPE Storage vision.
Here are the places you can now subscribe to Around the IT Block presented by HPE! iTunes, Google Podcast, Amazon Music, Stitcher, Podcast Addict, Player.fm, and Spotify podcast. Here's a blog post with more details about the new home for Around the IT Block podcast. 
Here's the agenda of what we discussed:
0:00 – 01:00 Intros
01:00 – 4:00 Importance of being in the leader's quadrant and what has set the foundation for the overall leadership.
04:00 – 08:15 HPE Storage strategy of Unified DataOps and the HPE vision of the HPE GreenLake edge-to-cloud platform coming together.
08:15 – 11:30 HPE's leadership delivering Storage-as-a-Service and data cloud services via HPE GreenLake.
11:30 – 14:10 Leadership with HPE InfoSight vs the industry.
14:10 – 17:00 HPE GreenLake for data protection extending cloud data services to simplify end-to-end data management.
17:00 – 21:40 How does HPE CloudPhysics and Edge-to-Cloud Adoption Framework add value to what we're doing?
21:40 – 24:00  Wrap up
Chalk it up!
And you know what, I have Chalk Talks on each of these topics I want to share with you so you can see why we are very confident about our vision at HPE.
About Calvin Zito 

I'm Calvin Zito and November 2021 will mark 38 years with HP/HPE.  I was recognized as an 11 time VMware vExpert. As an early adopter of social media and active participant in communities, I've blogged for over 13 years. And my podcast is now an official HPE podcast. You can find me on Twitter as @CalvinZito. If you don't follow me on Twitter, please do it now! You can also contact me via email.
Calvin Zito
Hewlett Packard Enterprise
twitter.com/HPE_Storage
linkedin.com/showcase/hpestorage/
hpe.com/storage